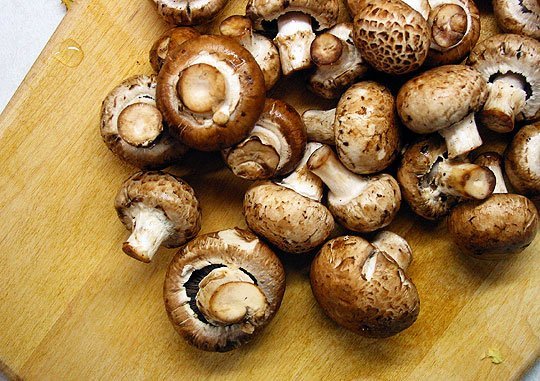 The general rule about healthy eating is to include as many brightly coloured vegetables and fruits as possible. The problem is that eating foods with colour can leave some incredible superfoods behind. This week we are shining the Superfood spotlight on mushrooms.
Despite their muted hue, mushrooms are full of essential nutrients and provide energy.
Mushrooms contribute to immune system and cell health, which can minimize the risk of cancer:

Mushrooms are high in antioxidants and selenium (a mineral not found in most fruits and vegetables. It helps with liver enzyme function to detoxify the body, prevents inflammation, and improves the immune system response to infection by stimulating production of killer T-cells.)
Beta-glucan fibres in cell walls of mushrooms an promote the immune response of producing cancer-fighting cells, and prevent tumour formation.
Mushrooms are the only natural vegan source of vitamin D (regulates cell growth cycle; improve mood; promote bone density), and are full of folate (important in DNA synthesis and repair to help prevent cancer-causing cell mutations.)

High fibre diets may help people with Type I Diabetes have lower blood glucose levels, and people with Type II Diabetes show improved blood sugar, lipids, and insulin levels. One cup of grilled portobello or shiitake mushrooms each provide 3 grams of fibre.*
Mushrooms are good for your heart:

High in fibre, potassium, and Vitamin C.
Potassium helps regulate blood pressure, thereby decreasing the risk of high blood pressure and heart disease.

Mushrooms are important for weight-management:

They are full of two types of dietary fibre: beta-glucans and chitin. Fibre helps keep you feeling full for longer and reduces appetite, thereby lowering your calorie intake.

Mushrooms are full of B Vitamins including riboflavin, folate, thiamine, pantothenic acid, and niacin.*
They are also full of hard to obtain minerals like selenium, potassium, copper, iron, and phosphorus.
They contain choline that helps with sleep, learning, and memory.
Clean Eating
Mushrooms are a staple in a Clean Diet. There are so many varieties, textures, and prices of mushrooms accessible to make your meals healthier, and your life easier.
Cremini and Button mushrooms are often available pre-cleaned and sliced – ready to be added raw to salads, or cooked as a side dish. For extra flavour, try sautéing your mushrooms in coconut oil. You may find they do not even need salt – just a few cracks of black pepper for a clean, nutty taste.
Whole grilled Portobello mushrooms are a delicious and satisfying alternative to meat burgers and steaks. Supplement meat stews, chillis, and sauces with mushrooms for a hearty, yet lighter meal.
Clean Recipes
Mushrooms on Toast

Sautee sliced mushrooms, garlic, and shallots in olive oil until golden brown and lightly crispy.
Toast a slice of Sunflower Seed Rye bread – lightly drizzle with olive oil.
Spread sautéed mushroom mixture on toast. Add some Parmesan Cheese shavings, cracked black pepper, a drizzle of Aged Balsamic Vinegar, and another drizzle of olive oil.
Perfect for any meal, a snack, or party appetizers (just cut the toast into thirds).