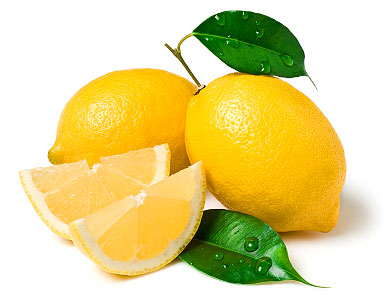 We often take the nutrient and health benefits of lemon for granted. This incredible superfood has so much more to offer than Vitamin C – this is what makes tart, delicious lemons our #SuperfoodSunday feature! We think this will inspire you to enjoy lemons everyday and with every meal…like we do.
Balances Body pH

Lemons are alkaline in the body and help neutralize acidic body pH.

Lemons maintain alkalinity in the body, protecting you from dangerous pathogens that thrive in acidic environments.

An alkaline body helps with proper digestive function, promote a healthy immune system (dangerous pathogens thrive in acidic environments), maintain a healthy cardiovascular system (the body protects arteries against an acidic body by lining them with dangerous plaque), and protect other systems. Basically, diseases cannot survive in an alkaline environment, but thrive in basic environments.

Helps with Gut Health

Pectin fibre, contained in lemons, aids colon health and has antibacterial properties.
Detoxifies the body by flushing the system.
Helps with the production of digestive fluids. This makes digestion easier and can help with weight loss by ensuring foods are broken down and metabolized efficiently by the body. This also helps the body absorb essential vitamins and nutrients from foods.

Immune Booster

Lemon juice is full of Vitamin C, which can protect against infections and colds. Vitamin C is an important antioxidant that can help combat free radicals in the body that may lead to cancer.
It also contains potassium, calcium, phosphorus and magnesium.

Increases Liver Function

Lemon provides energy to liver enzymes to help them work better and detoxify it.

Anti-Inflammatory

Lemon juice dissolves as uric acid in the body, which helps reduce joint pain caused by inflammation.

Replenish Electrolytes

Drinking lemon juice post-workout helps replenish essential salts and electrolytes.

Makes Skin Glow

Lemon juice is full of Vitamin C – an important antioxidant that fights acne, and minimizes the appearance of wrinkles by stimulating collagen production.
Clean Diet Tip
Lemon Water

Add the juice of one lemon to a glass of hot or warm water every morning. Drink this first thing in the morning, even before your morning coffee or tea, to help kick-start your metabolism and digestive system. It will help promote digestive and full body health throughout the day.
Doing this daily and over time has been shown to help with weight loss, and absorb essential vitamins and nutrients.
CLEAN TIP: Add a pinch of cayenne pepper and maple syrup to your hot lemon water to create the "Master Cleanse" concoction. Cayenne pepper boosts metabolism, helps digestion and detoxifies the body; and Maple Syrup is full of Manganese, which helps the anti-oxidative functions in the body, and contains zinc.

Note: you can enjoy the metabolism-boosting effects of this tonic without actually doing the proper cleanse without food. If you decide to do the Cleanse, consult a physician.

Greens with Lemon

Vitamin C helps the body absorb iron.
CLEAN TIP: Squeeze lemon juice over your dark, leafy greens like spinach. Try the traditional Greek dish "Horta" – a plate of quickly boiled dandelion greens (or whatever dark, leafy greens you enjoy) simply topped with olive oil and lemon juice. Salt and pepper can be added to taste.
Lots of Greek dishes feature lemon juice and dark greens. Try this recipe for Healthy Spanakorizo (Spinach Rice) for a filling, healthy meal.

Tangy Lemon Bars

We normally try to stay away from too many sweets, but for people who love tart lemon desserts, this lemon bar recipe is perfect. After all, everything can be enjoyed in moderation!