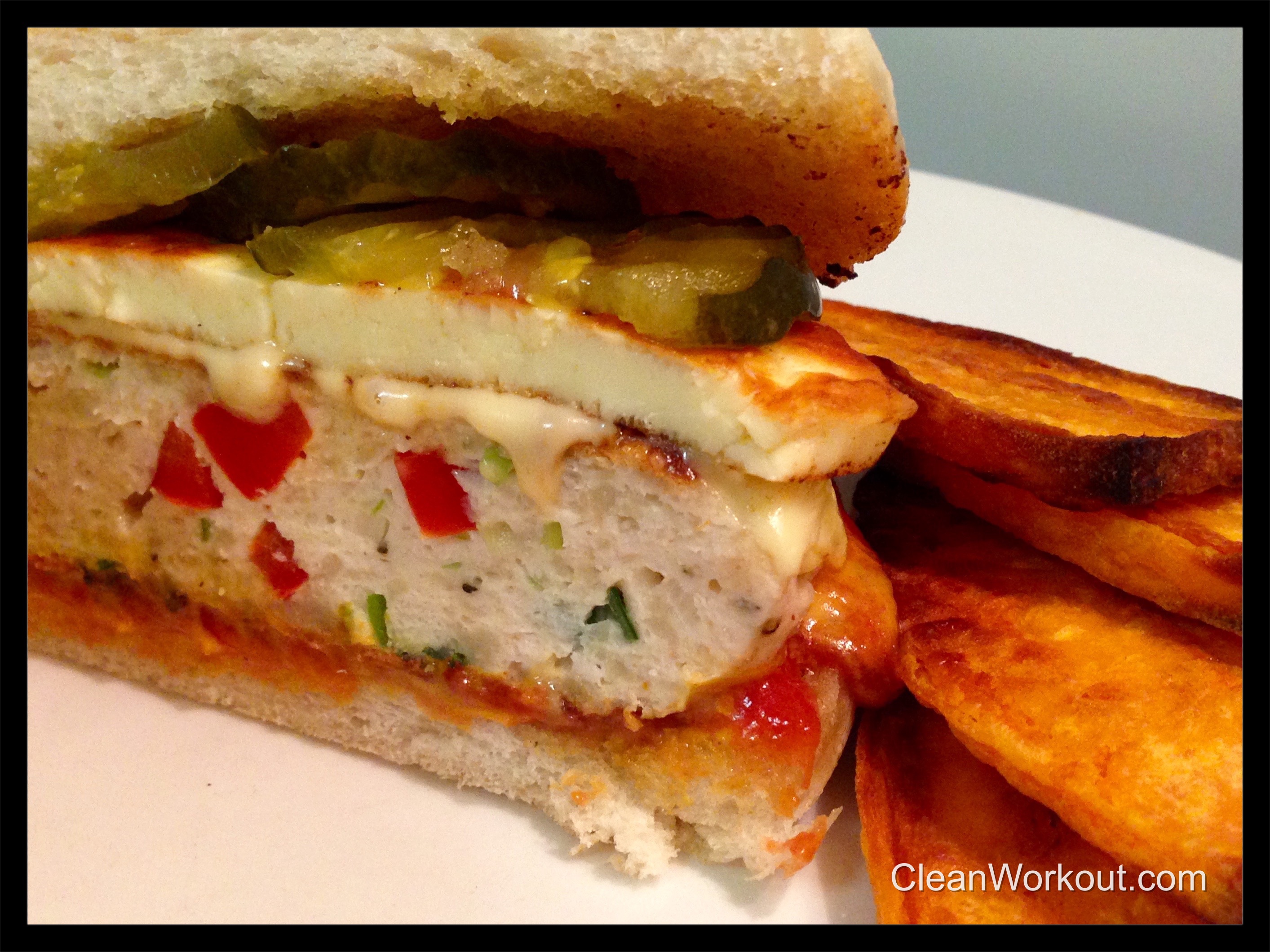 Eating healthfully does not mean that you have to skip parties and BBQ season. Instead, adapt your favourite "junk" foods into healthy meal options.
This moist and flavourful Healthy Chicken Burger with baked Sweet Potato Fries is a delicious option to take to your family BBQ's, and will leave a smile on everyone's face!
Ingredients
500g Lean Ground Chicken (white meat, preferably)
1/2 cup Red Bell Pepper, sliced into small cubes
Large handful of Parsley
Large handful of Green Onions, thinly sliced
Small handful of Mint, thinly sliced
4 Garlic Cloves, Minced
1/4 cup Panko Bread Crumbs
1 Egg
(Optional) Burger Toppings – Cheese, Pickles, Ketchup, Mustard, Buns/Lettuce Wraps
(Optional) Haloumi Cheese, Grilled
1 tsp Dried Oregano
1/4 tsp Cayenne Pepper
1 tsp Pink Himalayan Sea Salt
Ground Pepper
Olive Oil
Steps
 Start by thinly slicing your sweet potatoes. Place them on a parchment-lined baking sheet and drizzle with a little olive oil. Bake at 375F for 40 – 45 minutes or until golden brown. Sweet potatoes are so naturally delicious that they do not even need salt or pepper! Plus, the parchment paper ensures that they will not stick with very little oil.

Colour means flavour! Load your chicken burgers with fresh herbs and red bell pepper to keep it moist and bring lots of flavour.

Prep your vegetables and aromatics for your chicken burger. I like lots of thinly sliced green onion, small cubes of red bell pepper, fresh mint, fresh parsley, and garlic, of course. The bell pepper and green onion will give your burger a subtle sweetness and keep the lean chicken mince moist. There was roughly 3/4 of a cup to 1 cup of herbs and vegetables for 500g of ground chicken.

Add your ground chicken to the herbs, plus one egg, about 1/3 cup of Panko bread crumbs, about 1 tsp of ground Pink Himalayan Sea Salt, and fresh pepper. The egg will help hold your burger together as it cooks, and the Panko will help bind the patties. Mix everything up with your hands and form it into patties (this will make about 4 or 5 good-sized patties).

Healthy can be delicious – swap out typical ground beef for lean, high protein ground chicken filled with bell peppers and herbs for extra flavour.

Throw your chicken burgers on the grill or pan fry in a little bit of olive oil. Cook them on medium-high heat for 4 to 5 minutes per side, depending on thickness. If you are feeling extra decadent, melt a slice of cheese on top a couple minutes before they are done.

I felt extra indulgent with my chicken burger – I added a slice of cheese and a piece of grilled Haloumi cheese on top for extra crunch.
Serve your burger on a grilled bun with all of your favourite toppings (like pickles!) and with a side of your healthy, crispy and baked sweet potato fries.
Enjoy yourself and live with balance. This burger will not feel like you are depriving yourself of anything.