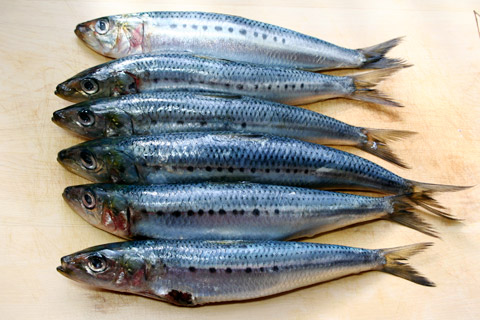 Sardines have unjustly earned a bad reputation as an oily, overly-salted canned fish that sit at the back of the pantry gathering dust. What you may not know is that sardines are one of the healthiest and, when prepared correctly, one of the most delicious fish available.
Sardines grow quickly, which means they contain very little mercury when they are fished, and are highly sustainable. Read below to learn what else makes them a true superfood:
They are High in Protein*
They will Keep your Heart Healthy

Sardines are an excellent source of Omega-3 fatty acids which lower cholesterol and act as an anti-inflammatory.

One serving of sardines contains more than 50% of your daily recommended Omega-3's.

They also contain vitamin B12, which reduces the risk of atherosclerosis (plaque and fat deposited onto the inside of artery walls) by balancing the level of homocysteine.

Sardines will Keep your Bones Strong

They are full of vitamin D, which helps your body absorb Calcium.
Clean Recipes
If you can get your hands on whole, fresh sardines, you are in for a treat.
They are incredibly easy to clean, but if you are squeamish about it, ask your fish monger to remove the heads and the innards. If you are feeling gutsy (no pun intended), you can clean them at home.
Place the fish onto a cutting board. Using a paring knife, place it behind the gills and cut off the head. Carefully cut the belly open and remove the insides by gently scraping with your knife while running the fish under cool water.
When cooked, sardine fillets easily separate from the bones, but you can carefully debone the fish once you have cleaned it. If the sardines are small, you may even be able to eat the bones as they can be quite soft.
Sardines are delicious lightly seasoned with salt, pepper, dried oregano and olive oil, and thrown onto the grill – simply finish with a squeeze of lemon before serving.
For a less healthy treat, lightly dust your sardines in flour seasoned with salt and pepper and quickly pan fry in olive oil. Serve with a squeeze of lemon.
Once you try fresh sardines, you will love them for their versatility, their slightly sweet, oily and soft meat, and of course, their superfood status.
What are your favourite sardine recipes? Fresh or canned!