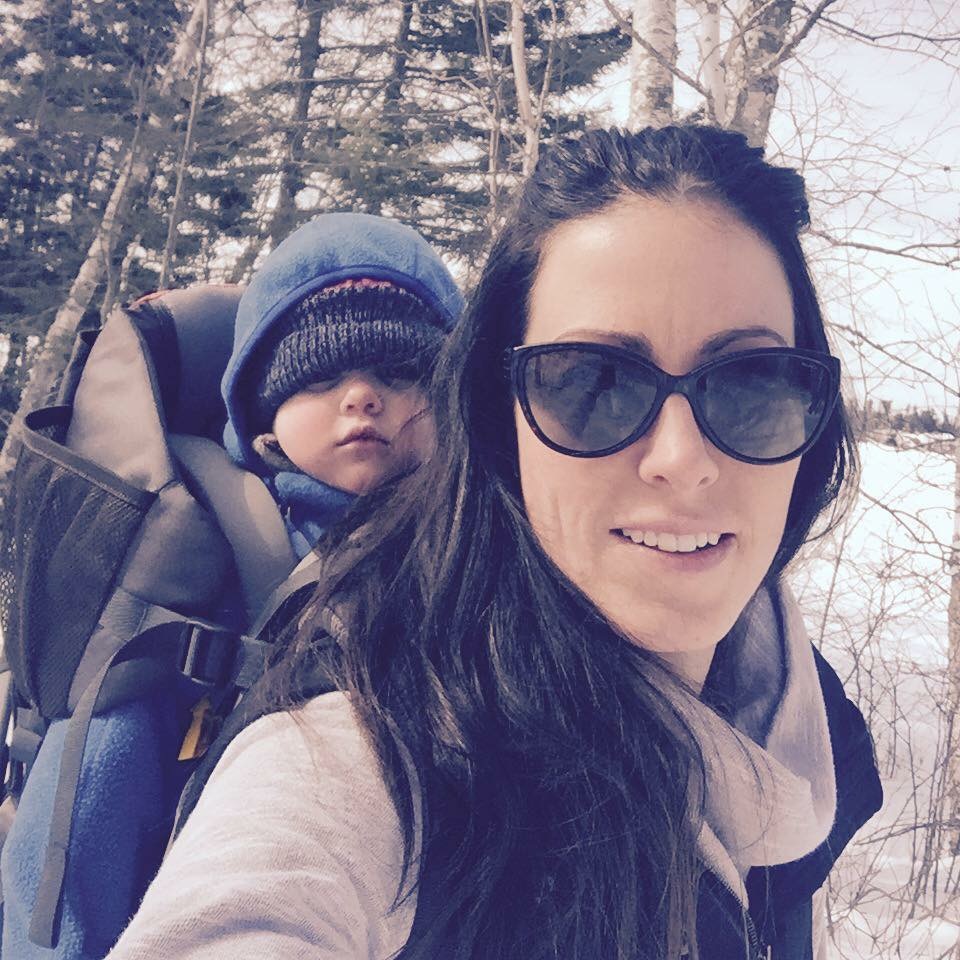 Family Day is a great reminder to all of us to relax and spend quality time with our loved ones. As much fun as it is to lounge around in your pj's together and watch movies, it is also a great opportunity to get outside and enjoy the snow! Ashley – our contributing writer and mother of two – is an expert at getting her whole family involved in healthy, outdoor activities. Living in Kenora, Ontario, they are used to partaking in everything the diverse landscape has to offer.
Check out some of Ashley's ideas for spending quality "Family Day" time outside. Also, try her simple, tasty, healthy, family-friendly recipes that you can make with your kids while staying cozy indoors.
---
Family Day is just around the corner and if your lives with little people are anything like ours, life doesn't always slow down on weekends to spend quality time together.  Instead, weekends usually consist of catching up from the week or getting ready for the next; playdates with friends; or maybe running from extracurricular to extracurricular activity.  Our intentions for Family Day have always been to wipe that slate clean and reserve time for our family.  So this Family Day, push everything else aside and spend quality time together doing things that make your hearts happy. 
For me, I love watching my kids enjoy the simple joys in life.  At three years old, Benj is a super busy boy and his wheels are always turning.  
I often resort to Pinterest for ideas on how to keep him occupied and inspired on the weekend to avoid excess screen time.   
My goal is always to make sure that we spend quality time together. While cultivating healthy habits is important to us, we also don't believe in total deprivation of things that make childhood fun. 
So how can you maximize your time together this Family Day?
Have a plan.  
I'm not talking an itinerary that is set in stone – I know how easily plans can change or shift with little people.  Have an idea of the activities that you can participate in as a family.   
Unplug. 
Leave the screens off for the day. If something is that important, you can be reached by phone.
Stick to simple and tasty breakfast. 
It's still a toss-up as to whether I will make pancakes or French toast.  Our breakfasts are always super simple, and usually just a rotation of whatever is easy, so I really want to up the fun factor for Family Day.  I would like to make something that both of my kids will be all over with a healthy twist, but doesn't deprive them.  French toast sticks are always fun.  A healthier version would include whole wheat bread and pure maple syrup.  If I go the pancake route, I will make my flaxseed pancakes and up the excitement by making 'animal pancakes'.  Pinterest is always a great resource for ideas.  Anything to make breakfast just a little more fun for this special day! 
Consider a staycation for the day. 
It's always great to get outside to enjoy a family-friendly activity if the weather permits.  Our three-year old would be up for pretty much anything as he is a huge fan of the outdoors, but we have a puppy and an 11-month old, so we will likely head out for a family walk, do some sliding, or lace up the skates and head out on the lake for a skate.  There are so many other great family activities that can get you outdoors, and although the inclination is always to associate being active with cultivating healthy habits, even getting outside in general is great!  Ontario has an amazing trail-system, so cross-country skiing is always an option.  Other outdoor activities may include:  sliding, hockey or skating on an outdoor rink, snowshoeing, ice fishing, making a snowman, snow angels, etc.
Your local community calendar is a great resource for activities and events that are taking place close-by if you are looking for some ideas.  I know our local ski-hill is hosting a pancake breakfast and free-rentals for the ski-hill which is a great incentive to get families out for some fresh air and fun!
Snack time is another chance for family fun!

When you come in from the cold, you may still be looking for an interactive activity to keep your kids from grabbing a screen (phone/tablet/computer/tv…there are so many more distractions now than when we were growing up!) Get everyone involved in building their own mini-apple pizzas!
Start by gathering all your "sauces" – peanut butter, almond butter or Nutella are great options (try homemade caramel sauce if you are feeling extra decadent).
Assemble your toppings! Things like toasted nuts, coconut chips, mini-chocolate chips, raisins and other dried fruit, peanut butter chips, crumbled pretzels, and mini-marshmallows just to name a few options. 
Carefully cut your apples into rounds or wedges, and let your family build their own mini apple pizzas. 
Prep your meals and get out that crockpot. 
Having healthy, home-cooked meals is great, but they can also take a lot of time and work. Choose something simple that you can set up and basically ignore until dinner time. Slow-cooked options like stews, braised meats and veg, or roasts are a perfect hearty meal to enjoy after a long day of playing outside. Pair it with a simple side salad and your favourite quick-cooking carb (quinoa, ancient grains, rice or pasta) and enjoy your comfort food! 
---
No matter how you spend Family Day, we hope that you enjoy quality time with those special to you. 
Love, The CleanWorkout Team