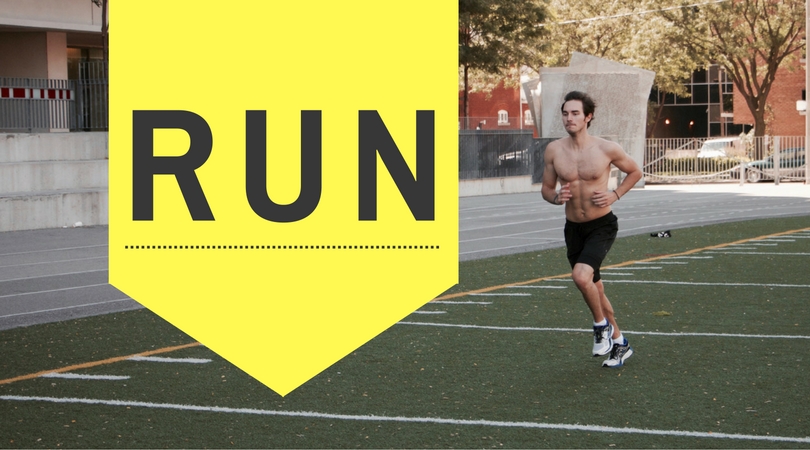 Our contributing writer Ashley unexpectedly fell in love with running back in 2008.  Since then, she has traversed thousands of kilometres, conquered five half-marathons and numerous other races. 
Running and jogging are things that anyone and everyone can do, but knowing where to start and having some basic essentials can make it that much more comfortable and enjoyable!  Check out Ashley's suggestions for beginners that are interested in running, including a superfood breakfast that will give you energy to go the extra mile!
---
The Need for Speed
Where does the urge to begin running even come from?  I absolutely loathed running my entire life, especially in high school where we were expected to run during gym class.   But at some point, I think you experience the itch to set some sort of running goal.
My first 'big' run was a local 10 km race.  I had absolutely no idea where to start other than hitting the pavement.  When I started talking about my desire to register for an upcoming 10 km, a family member brought me a box of running magazines from a neighbour, and within that box there was a run-plan book: plans based on the distance and time you wanted to pursue.
At that point it occurred to me that I couldn't just wing this, I needed a solid plan.
I starting flipping through the magazines and immediately realized that there is more to preparing for a race than merely hitting the pavement; that any substantial distance required preparation; and that simply taking up running required the right shoes at a bare minimum.
Getting Started: The Perfect Shoe
First of all, avoid the big box stores and online shoe shopping. It is a good idea to visit a running-specialty store to be fitted for the proper shoe.  Staff at a speciality running store will watch you walk or run to determine the type of support that you need.  The surface you intend to run on will also affect the shoe that you will be fitted for.
Secondly, invest in fit and function over design.  I know how tempting it is to choose a shoe that looks appealing to the eye – I've been there and have paid the price for it.  Depending on the distances you are running and on what terrain, a bulkier, more cushioned shoe might be a better option than low-profile designs.  Keep slim shoes for weight training days at the gym, and have a pair with lots of support for your running.
Shoes will probably be your biggest splurge if you are new to running.
I trained for and completed my first 10 km having only purchased shoes, and that worked out ok.  When I signed up for my first half marathon, I added running socks, a pair of running shorts and a technical t-shirt to the mix.
Having a moisture-wicking shirt is a complete game changer. It was the difference between being comfortable instead of wet and chilled at the end of the race.
Necessary Accessories
Next to proper shoes, running socks are key.  I initially remained committed to my cotton socks – bad idea as I experienced blisters and more blisters, but kept powering through.  At first I did not give any thought to running socks, and did not attribute my blisters to my cotton socks.  Let me tell you, I ditched those pretty quick!
Talk about a wide-selection of socks based on material, cushioning, breathability, thickness, seamlessness, etc.  It took me a handful of runs before I found a pair that I was set on, but just think for a moment that the most comfortable pair of shoes can be made even more comfortable by a pair of socks.  Talk about enjoying your time on your feet even more!  In hindsight, I should have purchased these items when training for my 10 km, but you know what they say, you learn as you go.
Keep the Pace
Race pace was not something that I took completely seriously.  I played around with it, and I am sure what I did helped build endurance and maintain strength.
My rule of thumb was to always run at a pace that I was comfortable with – whether it was during training or on race day.  If I could have a conversation with someone and provide more than just a one-word answer, I was running at a speed that I knew I could maintain for my entire run.  I did incorporate two basic speed-work runs into my training: fartlek* and tempo* runs.
I thoroughly enjoyed the fartlek runs because they are an unstructured approach to make a run go by really quickly.  It involves a speed and rest interval.  The speed interval is shorter than the rest interval, and can be determined on an individual basis, but I was a fan of the 30:90 second interval.  I would increase my speed for 30 seconds, and then my 90 second rest interval was at a pace that was slightly slower than my normal running pace.
A tempo run involves running at a faster speed for a certain distance or for a certain length of time.  A simple approach to a tempo run would be to warm up and cool down as you normally would, and the in-between would be a faster pace.
Stretching
The jury seems to be out on the importance of pre-run stretching and whether it does in fact minimize the potential for injury.  If you think of any exercise routine, stretching is usually commonplace at the tail-end, and I always treated running the same way.  Whether it was a training run or on race day, I would always walk around for about five minutes post-run, and then my stretch would be a squat, as it stretches the back, hips, quads and calves.  Regardless of whether or not you thoroughly stretch before a run, you should always do a solid 5 minute warm up to get your blood flowing and increase your heart rate.
Personal Goals and Preference
In my opinion, your first race experience is monumental and can really impact your decision to continue running or simply chalk your race up to a goal attained.  I know that for me, I am a fair-weather runner when it comes to running outdoors, so I always look for races held either in early spring or early to mid-fall.  My preference is a flat road-race, and I do think a race with a fair amount of hydrating stations is key.
My first half-marathon was the Scotiabank Toronto Waterfront Marathon. It is such a well-organized and fun run!  It is my benchmark race and, although I have completed two other half-marathons in different cities, I did return to Scotiabank for two additional half-marathons. I also plan to get another one under my belt in the near future and am hopeful that I will set a new personal best!
High-Performance Fuel
As with any workout, you have to fuel your body properly for maximum performance.  When you are running, slow burning complex carbohydrates like oats and sweet potatoes take longer to breakdown and will give you the energy you need for a long run.  This recipe will also keep you feeling full all morning and give you lots of energy for non-running day!
CleanRecipe: Ashley's Healthy Sweet Potato-Oats Breakfast
½ cup Roasted Sweet Potato (click here for our tips on roasting sweet potatoes!)
½ cup Cooked Rolled or Steel Cut Oats
2 tbsp Toasted Almonds
1 tbsp Toasted Coconut
¼ cup Canned Coconut Milk
½ tsp Organic Honey
½ tsp Ground Flax
1 tsp Pure Vanilla Extract
Dash of Cinnamon
Optional Additions:
½ tsp Hemp Hearts
½ tsp Chia Seeds
Dash of Turmeric
I always pre-cook my oats and sweet potatoes for the week, so it's just a matter of tossing everything together and popping it in the microwave.