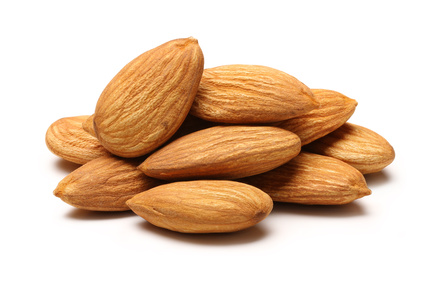 One of my fondest childhood vacation memories was picking fresh almonds in Greece, cracking them open with an old hammer, and feasting on the crisp, milky nuts inside. While there is no comparison in taste to freshly picked almonds, they are a staple snack and drink in my diet.
Almonds are delicious, versatile and one of the most powerful superfoods that you can enjoy. It was recently noted that consuming a few almonds each day can drastically reduce the risk of cancers. Find out why this is the case and learn why we are nuts about almonds below. Happy Superfood Sunday!
Antioxidants (learn more about antioxidants in our What the Buzz? post)

Almonds are one of the best sources of Vitamin E (37% daily intake in 1 ounce of almonds). Vitamin E has been shown to reduce heart disease, Alzheimers disease, cancers, and improve skin conditions like blemishes and scars.
The majority of the antioxidants in almonds are found in the skin. Keep that in mind the next time you are at the grocery store!

Great for Controlling Blood Sugar

Nuts are high in fibre, protein and healthy fats, but low in carbohydrates. This makes them ideal for diabetics.
They are high in Magnesium, which, among is many functions in the body, helps to improve the function of insulin. This is crucial for Type II Diabetics that can sometimes control the disease with dietary changes.

Heart Healthy

Almonds are full of omega-3 fatty acids that are anti-inflammatory. They also help lower LDL (bad) cholesterol while maintaining healthy HDL cholesterol; lower high blood pressure (linked to Magnesium-deficiency); and reduce belly fat (belly fat is the most dangerous place to gain weight since it puts stress on your heart and other vital organs. The fat negatively impacts normal organ function, increases dilation of arteries and veins, and raises blood pressure, which is extremely dangerous.)

Weight Management

Eating just a few almonds provides you with essential fats, protein, fibre and nutrients. Protein and fibre work to keep you full, which should curb hunger and prevent you from consuming additional calories.
It has been shown that approximately 10% to 15% of the calories in almonds cannot be digested and will boost metabolism.
Clean Recipes
Whip up your own healthy almond milk at home. Soak raw almonds (skin on!) overnight, add to a blender with some water or coconut water, and blend until smooth. Use this in recipes, on cereal, or enjoy a glass on its own! The taste of homemade almond milk cannot be compared to store-bought. It is fresh, creamy, and full of flavour.