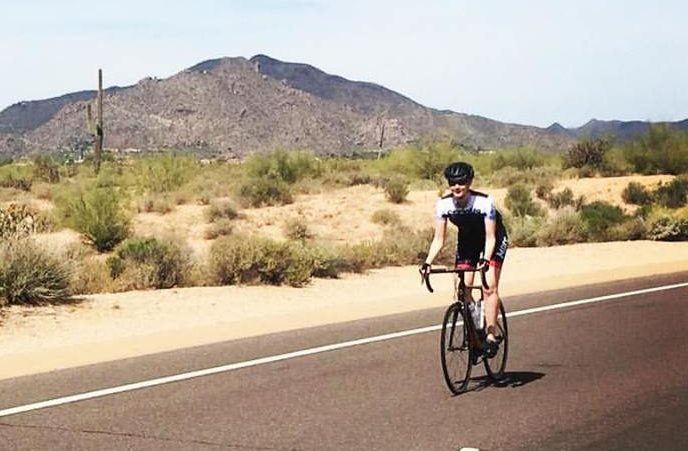 The more we learn about Joanna, the more we are in awe over everything she has done and continues to achieve. She fearlessly embraces new challenges with a smile – a lesson to all of us that anything is possible with a strong mindset. Joanna, you are #OurInspiration!
---
Age: 31
Occupation: Communications Manager
Preferred Exercise: While I love trying new activities and classes to revamp my fitness routine, I have a soft spot for cycling. Being on an open road, whether alone or with a group, is so empowering and does wonders for the mind, body and soul. From April to October, I'm almost always in the saddle of my Cervélo S3. When it's too cold to ride outdoors, you can find me getting my spin on. I'm a huge fan of Equinox's spin classes, particularly The Pursuit, a recently-launched interactive cycling class (think: spinning meets video game) where you're head-to-head with your fellow gym goers. These classes help me stay in top cycling shape throughout the winter so I'm ready to hit the saddle when spring rolls around.
"Necessary Evil" Exercise: Anything that makes my muscles ache the next day (…or days). Lately it's been Lagree—an intense full-body workout that's done on a reformer. The classes always kick my butt (in a good way, of course)!
Best Workout Track: It's impossible to name just one. I like ODESZA for a mellow soundtrack. For something more upbeat, I gravitate to Drake, Rihanna or a deep house playlist by Sam Feldt or Goldroom. Fresh tracks with a solid BPM are essential to make the most of my workouts.
Favourite Hobby or Pass-time: Definitely cooking and traveling. I'm a nomad at heart and love to explore places near and far—especially those with good food. No destination is off limits!
Ultimate Food Splurge: A mouth-watering burger (sans bun because I'm gluten-free). John's Burger at Marben is one of my favourites. It's a juicy patty topped with braised beef short ribs and melted aged cheddar.
If I'm making something on my own and feel like a sweet treat, I whip up some healthy "ice cream." In a blender, combine an avocado, a banana, a handful of spinach, an egg white a scoop of vanilla protein powder (my favourite is Iron Vegan), a handful of frozen strawberries and a splash of unsweetened almond milk. Blend until thick and smooth. Pour into a bowl and sprinkle with goji berries or hemp hearts.
Favourite Travel Spot: St. Barth's. It's a gem of an island that has too-perfect-to-be-real scenery, a laid-back culture and the most delectable food and nightlife.
Typical Friday Night: After a long week, I'm ready to put my feet up with a good book or relax in the company of good friends.
Favourite Goal Accomplishment (So Far…): Most recently, completing my Culinary Arts diploma while working full-time.
---
Joanna is a Toronto-based Communications and PR Professional who has the ability to put everyone she meets at ease. She connects with old friends and new ones by drawing on her experiences as a triathlete, traveler, and certified chef.
The first time we met Joanna, we immediately bonded over our love of food (naturally). She studied culinary arts at Toronto's acclaimed Centre for Hospitality and Culinary Arts at George Brown College to pursue her life-long passion and help broaden her knowledge of different cuisines. Her Instagram feed features some of her bright, healthy and mouth-watering creations that showcase her technique, diverse palette and seasonal cooking style.
The right balance of food fuels Joanna for her continual training. As a triathlete, she can often be found running or biking around the city, dancing or sweating out the week at a hot yoga class.
When she is not competing in triathlons, an endurance course of swimming, biking and running, Joanna keeps her body and mind in top form by participating in fundraising races. She recently ran the Scotiabank Rat Race for United Way, placing an enviable 33/714 in her category with a 5 km time of 22:45, and raised more than $8,000 for charity with a team of colleagues. She was also a top 20 female finisher in this year's Guelph Sprint Duathlon.
Joanna has redefined what it means to live a healthy active lifestyle and makes it look easy. With training and practice, she has learned about food, flavours and seasonal cooking, making it easy to enjoy beautiful, healthy meals prepared at home. She also seamlessly integrates fitness into her day-to-day routine because she enjoys her workouts.
We need to know how she maintains her discipline every day. Check out our interview with Joanna Marie Nicholson below!
---
On Triathlons, Races and Competitions:
1. CW: How many triathlons have you participated in throughout your career? What motivated you to race your first one and what is it about triathlons that keeps you coming back for more?
JN: I got into triathlons more seriously last year and have completed three as well as one duathlon (with more triathlons, duathlons and rides to come later this season). I've always been an avid cyclist and, more recently, a runner. I wanted to challenge myself mentally and physically by tacking on the swim (which is not my strongest sport). It's a work in progress, but I set new goals for each race I do. To me, there's a thrill associated with being in a race. It's personally motivating and I thrive off the positivity of those around me. Every race attracts a very "type A" crowd!
2. CW: How has your training and mindset shifted from your first running race in 2010 until now? What do you do the same and what have you changed with experience? Do you have any tricks for staying accountable to your training?
JN: To be honest, I was never athletic growing up. From childhood to university graduation, I was a competitive dancer, whose life was consumed with all genres of dance (I have my Royal Academy of Dance Grade 8 ballet certification to show for it). My competitive spirit shifted to a more athletic focus after school.
A colleague at my first job encouraged me to sign up for a 5 km run—something that felt very daunting at the time since I probably hadn't run more than 1 km in one go. I embraced the challenge, laced up my new running shoes and gradually worked up to the 5 km distance.
I vividly remember crossing the finish line at my first run and the rush of endorphins I felt. I immediately knew I wanted to do it again…and again. Racing, whether in long-distance bike rides, triathlons, duathlons or runs, is such an important part of my life now. I definitely enjoy running more than I did, especially with a good playlist or scenery.
The reality of training is that some days you'll be gung-ho to get your workout in while other days, you'll be dreading it. The important thing is to listen to your body and take a break if you need a rest (this is as important as training).
My tricks for getting excited about training include having a killer playlist, an outfit that makes you feel good and a positive attitude. Meditation has really helped me get in the right headspace before a race as well, and this is something I've started to incorporate into my daily routine. I always try to set realistic goals for myself too, such as incremental improvements to my time.
On Food and Nutrition:
3. CW: Eating enough of the right foods is crucial to athletic performance. What do you eat on intense race/training days before and after your workout?
JN: Fuelling your body properly is a fundamental aspect of training. I follow the 80/20 rule and eat a clean diet, which means lots of lean proteins (chicken, wild fish, eggs), plenty of fresh fruits and vegetables and low-glycemic carbohydrates, such as sweet potatoes. BioSteel products are some of my favourite on-the-go snacks when I'm training. I always use the High Performance Sports Mix to help me stay hydrated on long rides and I often replace any lost nutrients with the Vegan Nutritional Bar—it's plant-based, nutrient-rich and delicious.
4. CW: Do you have a simple, healthy go-to meal during the work week or any chef-approved tricks for flavourful, balanced, filling meals? What are some superfood staples in your pantry that you cannot live without?
JN: I always start my morning off right—with a nutrient-packed green smoothie that I make at home. In a blender, I combine unsweetened almond milk, a scoop of Amazing Grass, a scoop of Iron Vegan vanilla protein powder, some cold-pressed lemon juice, fresh organic ginger root, a large handful of spinach and a ¼ cup of frozen wild blueberries. If I'm cycling or doing something active in the morning, I'll throw in a banana too for extra carbs.
While everyone's diet requires different things, I find the right balance of protein and carbs helps me stay full while balancing my blood sugar throughout the day (this is key since I have type 1 diabetes). I also really like plates that embrace bold flavor profiles. For a healthy, protein-packed snack, mix a teaspoon of harissa paste with one cup of Greek yogurt. Dip in your favourite veggies or Mary's Crackers. As for superfoods, my cupboards and fridge are full of them. For example, I always have avocados on hand!
On Sportsmanship and Goals:
5. CW: What skills have you developed from athletics that have benefitted your personal and/or professional life?
JN: Resiliency or the ability to bounce back after a setback—whether big or small—is one of the skills I've sharpened through athletics. Similar to sports, life's a winding road that constantly tests our character and throws us curve balls. How we cope with adversity in a personal and/or professional setting ultimately defines our success or failure. I'm grateful for the life lessons I've learned thus far and am always looking to grow in all areas.
6. CW: Do you have any words of wisdom for people who are struggling – mentally, emotionally or physically – to start their fitness journey?
JN: This may sound cliché, but every step counts. The great thing about fitness is that it's a journey, not a destination. Surround yourself with positive people who inspire you, believe in you and want you to reach your full potential—whatever that may be.
7. CW: What is your next fitness goal and what are you doing to achieve it?
JN: My next fitness goal is going to be a fun one to check off the list! This fall, I'm rounding up some family members and participating in the Subaru Centurion in the Blue Mountains. We're going to have a great time while cycling over 50 miles through a hilly terrain.
As for future goals, I'd also like to participate in a multi-day cycle for charity.
8. CW: Anything else you would like to add?
JN: Rumi has some of the greatest words to live by: "Wherever you are, and whatever you do, be in love." Life is short—don't waste time on people or things that don't make you feel fulfilled or happy.
---
Joanna has found the balance between work, life, food and fitness and continues to educate herself, push herself, and work on it every single day. Thank you for taking time to chat with us and for being #OurInspiration!