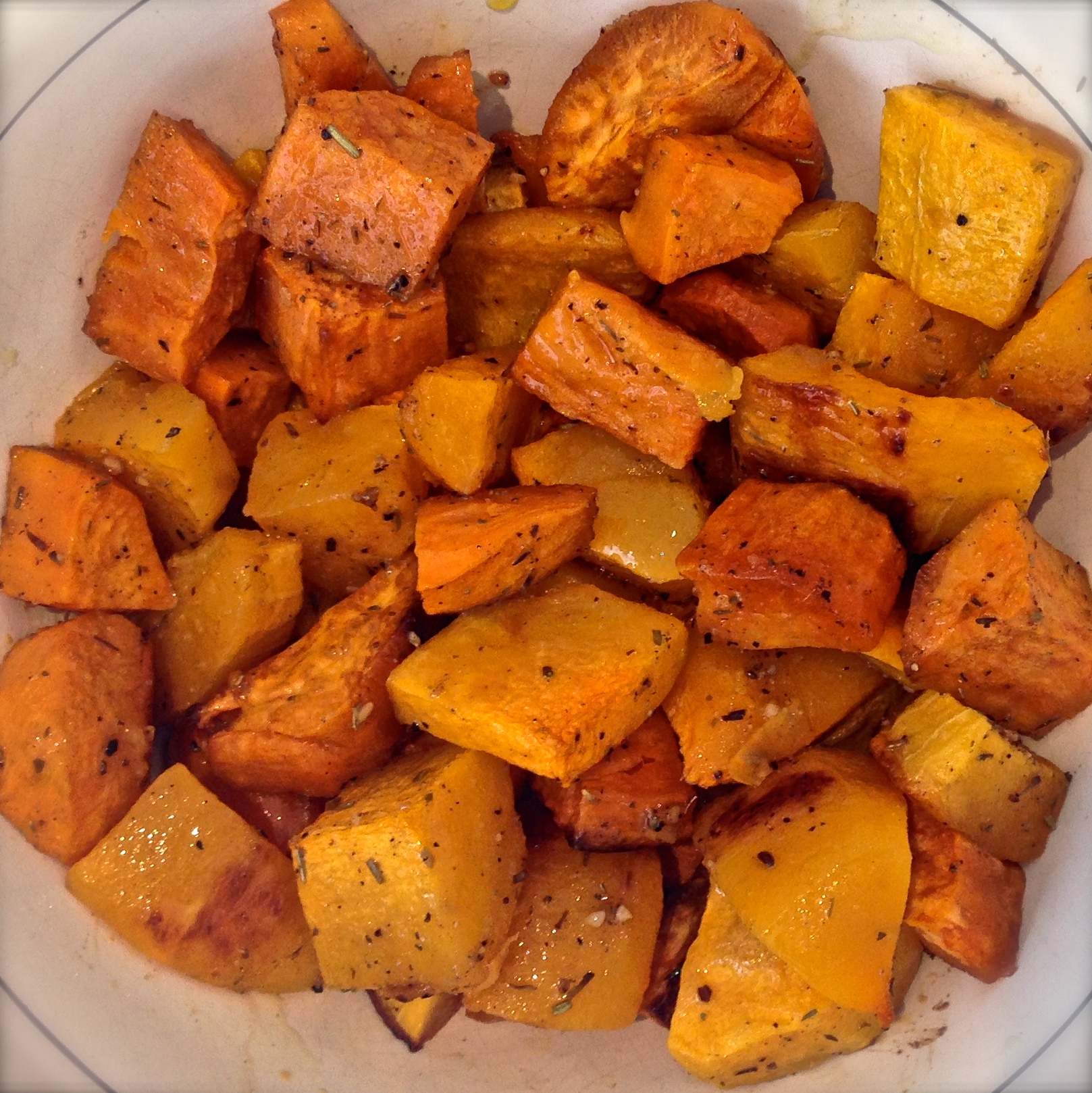 Many of us try to ignore our sweet tooth for the sake of our health and fitness progress. Paleo Candy is the answer. It tastes so good, you will be shocked it is not bad for you.
My recipe for Paleo Candy is sweet potato and butternut squash cut into ~1 inch cubes and baked at a high heat. The sugars in the sweet potato will caramelize, giving a crunchy candy-like shell. The butternut squash will not become as sweet, and it breaks up the sweetness from the potato.
---
What you need:
2 large sweet potatoes peeled and cut into 1 inch cubes
1 – 2 cups of butternut squash, peeled, seeded and cubed
Olive oil
Salt, pepper, preferred herbs (I used Herbes de Provence)
Baking sheet lined with parchment paper
---
1. Pre-heat oven to 400 C.
2. Toss cubed sweet potatoes and butternut squash lightly with oil and seasonings. Do not add too much salt – it will intensify as dish bakes.
3. Spread onto parchment-lined sheet pan.
4. Bake for 30 – 40 minutes, until tender, stirring half way through cooking.
5. Enjoy.
---
You will be surprised at how satisfying this Paleo Candy can be. It is perfect as a side dish or a way quench your sweet craving at the end of a meal.
Some of the many benefits of sweet potatoes and squash are vitamin C for a healthy immune system, vitamin A for healthy eyes, and vitamin D for healthy bones. Sweet potato sugars are slowly released into the bloodstream helping to ensure a balanced and regular source of energy, without the blood sugar spikes that lead to fatigue and weight gain.
Let me know how you enjoy it!