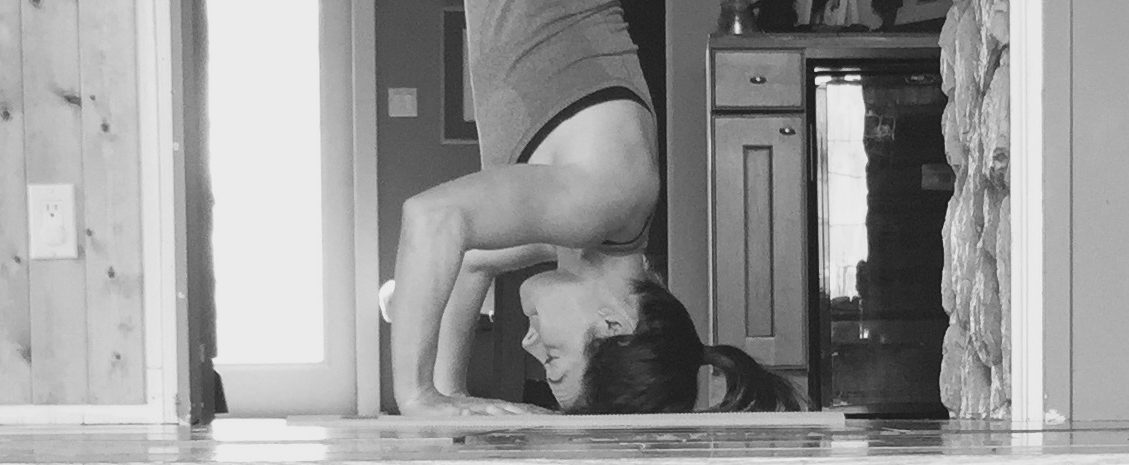 Healthy lifestyles develop and evolve over months and years, and can be different depending on what stage you are at in life. Our Inspiration, Ashley Massey, is a working mom and half-marathon runner whose active lifestyle and clean eating habits are constantly adapting to keep her and her family healthy and on the move.
---
Age: 34
Occupation: Self-Employed
Preferred Exercise: HIIT (High Intensity Interval Training) as it allows me to use my time wisely.  It's quick, it's effective and I sweat!
"Necessary Evil" Exercise: Burpees.  I still dislike them on their own, SO I actually prefer a dumbbell burpee with a renegade row.  It sort of fools me into forgetting that a burpee is even part of the whole exercise.
Favourite Hobby or Pass-time: Cooking and trying new recipes.
Ultimate Food Splurge: I'm guessing this means if I was going to throw the concept of healthy eating completely out the window, what would I choose?  I'm a total 80/20'er, but that doesn't mean that I completely derail 20% of the time.  I watch what I eat the majority of the time, so if I am out and feel like treating myself to something I wouldn't normally eat but isn't totally unhealthy I will order it and not feel guilty.  But a food splurge I would totally feel guilty about would be poutine.  It's my ultimate splurge because it always has to be large with double the curd.
Favourite Travel Spot: I haven't travelled extensively so I don't have a favourite travel spot per se.  Lake of the Woods is right here, which honestly creates the perfect work/life balance.  It's nice to escape to the lake for a night or weekend, lose track of time, fall asleep to the sound of the loons and water, and enjoy a coffee on the dock in the morning.
Typical Friday Night:  Relax and unwind.  Hang out with our little people.
Favourite Goal Achievement: Probably completing my Masters Degree while continuing to work full-time.
---
For many people, staying committed to a healthy meal plan and routine exercise can be difficult when life gets in the way. Ashley is a busy working mom in Kenora, Ontario who makes no excuses – she schedules workouts and meal preparation into her calendar along with business meetings and her kids' play dates.
Ashley found that working out became more important after she had her kids. Among the physical benefits of staying active, she finds that fitness gives her more energy and makes her more positive and focused – something that is necessary when working full time and keeping up with a four month old!
Fitness gives [me] more energy and makes [me] more positive and focused.
Ashley's clean lifestyle has encouraged those around her to become healthier. She believes that it is "never too late to begin" and inspired her mother to start lifting weights and make small, healthy changes to her daily routines.
It takes serious commitment and a passion for healthy living, but we believe that Ashley has found the perfect work / life / fitness balance. We applaud her dedication and how she encourages others by example. We asked her all about her tips for busy moms and how to make small changes that lead to big results. Thank you for being Our Inspiration!
---
CW: Thank you for taking the time to chat with us, especially since it seems that you do not have much of it to spare! It can be difficult to find the motivation to work out at home, but you manage to do it while working full-time and looking after two young kids! Would you mind sharing a simple at-home workout routine for our readers?
AM:  I'm a huge fan of HIIT.  I find it so much easier to develop the mindset to go hard for short periods of time.    You can find a variety of HIIT routines on the web, and honestly there are so many exercises that you can perform at home with very little equipment.
Exercises that I would typically include are: squats with a shoulder press (basic or sumo), alternating weighted lunge, burpees with a renegade row, Arnold press, tricep kickbacks, single leg weighted squats, pushups and bicep curls.  I often throw some cardio in there as well between exercises such as mountain climbers, high knees, running on the spot, or football fast feet.
Of course I can't forget about the core work: flutter kicks, knee crunches, bicycle crunches, weighted sitting twists, and planks.  I know that sounds like a lot, but really it's not.
I go hard with each exercise for 1 minute with a short 15 or 20 second break, and do 2-3 rounds.  I promise you, that you will sweat!
CW: You inspired your mother to take a different approach to fitness by introducing her to weight training. What are some small changes people can make to their routines, both in real life and at the gym, so they do not feel overwhelmed?
AM: If an active lifestyle is relatively new to you, ease into it.  Don't set yourself up for failure thinking that you need to get to the gym 6 days a week.  Focus on making a schedule you can stick to.
Schedule your workouts into your day, or put it on your to-do-list for the day.
Get it out of the way first thing.  Don't compare yourself to those around you, and remember that you are your own competition.  I think it's so important to remember that healthy looks different on everyone.
Get a workout buddy/accountability partner.
Keep your workouts short but intense.  I feel like some people starting out may get turned off by the length of time they perceive a workout needs to be.
Don't set yourself up for failure, focus on small changes to your current routine.
Think progress.  Don't throw in the towel when you feel discouraged.
Keep a journal.
Always have a goal to keep yourself motivated.
Develop the mindset that you can stay active virtually anywhere.
Healthy looks different on everyone.
CW: You mentioned that you schedule "Sunday Meal Preparation" into your calendar. Do you have any other tips for people who want to eat healthfully and are challenged by busy schedules?
AM:  I love Sunday meal prep!  I always have a good idea by Sunday what dinners we are going to potentially have for the week.  I keep it simple really.  Dinners are usually different for each day of the week, but I don't get too fancy with lunches.  Leftovers work well and then you don't have to stress.
GRAB AND GO   I prep as much as I possibly can on Sunday, so we have grab and go's.  It usually includes hard boiled eggs, cutting vegetables and fruit, cooking proteins like chicken or ground turkey that can be added to salads, roasting vegetables, and lately some sort of healthy treat.
SMOOTHIES   I'm not a huge fan of raw vegetables, so I try to get a daily dose of greens, whether it's kale or spinach, in a smoothie.  Smoothies are great for busy schedules, you can always pre-package in small ziplock bags, and then you just have to add your liquid to the blender.
CROCKPOT FREEZER MEALS   Crockpot freezer meals are great for busy weeknights.  There are lots of healthy ideas on pinterest.  The prep is a little time consuming on a Sunday, but it shaves hours off of your week.  When I make soups or chilli I usually make enough so I can freeze it.  That way, when meal prep doesn't happen, you still have a healthy backup plan!
CW: We know that you love to adapt recipes to make them healthy. Are your kids picky eaters and if so, how do you disguise their meals? How do you encourage them to enjoy healthy foods? Would you mind sharing a healthy kid-friendly recipe?
AM:  Madyn is still too young for solids, but Benjamin is definitely picky.  He would live on dry cereal if we let him.  Honestly we use bribery a lot (LOL), but bribery with food.  He loves yogurt and toast with peanut butter, so it isn't uncommon for us to strike a deal with him that if he at least tries what we are having and attempts to finish what is on his plate, he can have a piece of toast with peanut butter or yogurt.  There is nothing wrong with complex carbs or yogurt, but we want to encourage him to eat a variety of foods.
I've tried to disguise healthy foods by making things like macaroni and cheese with cauliflower or a butternut squash puree, but you can rarely fool a toddler. Benjamin is a fan of pancakes – I used to use Aunt Jemima pancake mix, but I'm not one to buy "ready to make" items.  I have tried a few different pancake recipes that I found on pinterest and put a healthier twist on them.  I had previously used kefir to make muffins and loved how moist they were.  I also add Ground Flax to almost anything I bake.  Benjamin loves these pancakes, and I feel good knowing that they are healthy!
CleanRecipe: Ashley's Superfood-Kefir Pancakes
Dry Ingredients:                                     Wet Ingredients:
½ cup Whole Wheat Flour                    2 tsp of Organic Honey
½ cup Ground Oats                                1 cup Plain Kefir or Yogurt
2 tbsp Ground Flaxseed                          ¼ cup Milk
1 tsp Baking Powder                                1 Egg, Lightly Beaten
½ tsp Baking Soda
Add the Dry Ingredients to Wet and mix.  Heat a frying pan over medium heat.  I add a little coconut oil to the pan and cook until bubbles start to rise to the top, then flip and cook until golden brown.  I find these freeze well and make a quick and relatively healthy breakfast for a toddler. *
* CleanRecipe Note: A small amount of a natural sweet topping for your pancakes might help you enjoy them more and satisfy your sweet craving. Pure Maple Syrup or Organic Honey both have low GI and are packed with natural nutrients (honey is a natural anti-septic/anti-fungal/anti-bacterial and immune booster). You can also make a simple fruit syrup by simmering fresh or frozen berries (try blueberries, raspberries or strawberries) with a little bit of water and organic honey to taste.
CW: That definitely sounds like our kind of breakfast – balance is key to any diet. Thanks for sharing! Also, congratulations on running five Half-Marathons! Have you always been a runner? What inspired you to start running and how do you stay in shape for them?
AM:  I haven't always been a runner.  I ran my first half marathon in 2009.  It was the Scotiabank Toronto Waterfront Half-Marathon.  I had run a 10km race about a year before and it made me hungry for more.
There is something to be said about setting a fitness goal, making a plan to achieve it and following through.  It is so gratifying!  
I have always tried to maintain my level of fitness between races, although my training was never rigorous.  I always did some form of cardio 2-3 times a week, some weight training and core work.   I never ran more than a 15km distance prior to any of my half-marathons, so my fitness regimen between races and preparation before is probably not one that I would suggest to follow, but it worked for me.
I've always found the half-marathon (21km or 13 miles) to be a distance that you can totally wrap your head around; a distance that challenges you, but does not discourage.
CW: What is your next fitness goal and what are you doing to achieve it?
AM: I've always wanted to do a Tough Mudder. I just need to convince some friends to join me! I think that it would be a great test of both strength and stamina, and the camadararie and teamwork aspect in something of that proportion would be incredible.  It's definitely on my bucket list!
CW: Speaking from our Mud Hero experience, it is definitely a fun race that is great for team building and we highly recommend trying it! We really appreciate you taking the time to encourage other moms and people with busy schedules, and are excited to announce that you will be a new contributing writer on CleanWorkout.com! Would you like to add anything about why you are inspired to share your fitness journey or what our readers can look for?
AM:  I consider myself very real when it comes to my fitness journey, and I think that is important.  I would never admit that my fitness journey is easy, but I don't think it is supposed to be.   Sure, there are mornings when I would rather stay in bed instead of getting in a quick workout, just like there and evenings when I would rather ditch the workout altogether.
It's about sacrifice, commitment and consistency, but it is totally worth it to make that investment in you.  It's necessary.  
I know for me, healthy eating and fitness go hand-in-hand, and the results you can see from those two things alone IF you are consistent, is amazing!  I am more productive, content and positive. When you feel good and look good, I think you are more inclined to push yourself in all areas of your life; to get outside your comfort zone; challenge yourself and work for more. I think when you take care of yourself you feel more confident in your capabilities in other areas of your life.
Healthy eating and fitness have so many benefits beyond what others actually see.  
Lastly, you don't have to be perfect!   I definitely eat well a majority of the time, but I also have fun.  I don't deprive myself completely of the things that I enjoy.
Since having my kids, healthy eating and fitness has become even more important to me.  Kids watch you and start to absorb everything at such a young age.  I want to show my kids early that healthy eating and physical activity is a lifestyle.  That it is not something you do sporadically throughout the year when you decide it's time to get in shape for some vacation or event.
My fitness journey is simple – eat well and show your body that you care.  I'm passionate about this approach because it is the right way to healthy.
It's not a quick fix. It's hard work, but it's worth it.
Thank you, Ashley!
Remember to Subscribe to CleanWorkout.com to follow Ashley's experiences, and for more CleanLiving and CleanRecipe tips. Send us your questions for Ashley to learn more about how she juggles parenting, work, fitness and healthy eating.