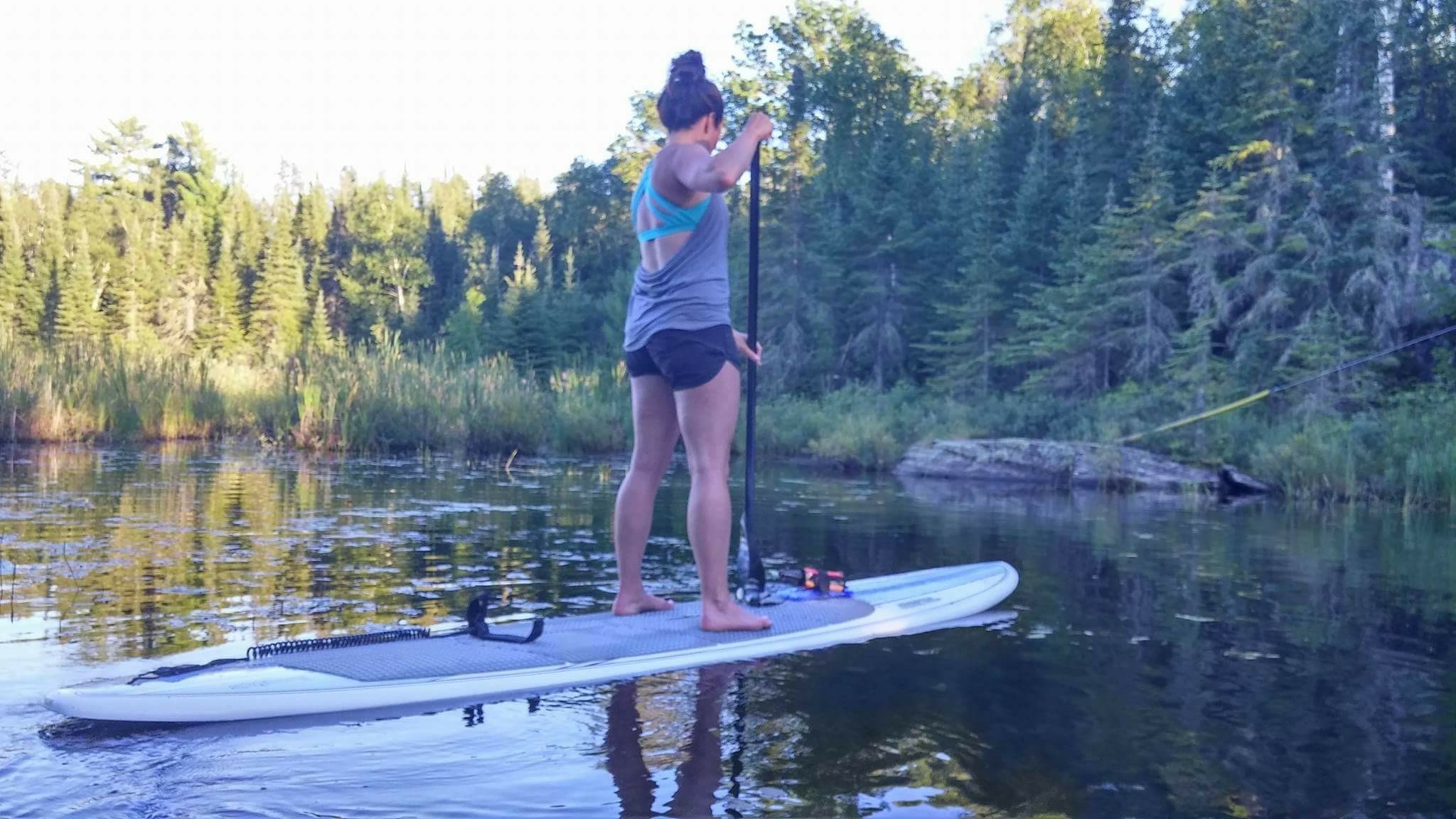 We often let ourselves get caught up in work and errands in our everyday lives. When you are busy, it is easy to forget that the best way to stay active; the most beautiful views; and the key to the healthiest lifestyle is right outside your door!
Fresh air and oxygen will energize you, help you think more clearly, and will help you enjoy more restful sleeps to name a few of its benefits. Enjoying time outdoors is an integral part of a healthy, balanced lifestyle…IF we can pry ourselves away from the computer and television long enough to experience it!
See how Ashley, our CleanWorkout Contributing Writer, makes being outdoors a priority for her and her family.
Living in Kenora, Ontario, Ashley has things like hiking trails and lakes available right outside her door. Read her tips for opening your eyes to the opportunities nature gives us, and being active outside throughout the year.
---
When people hear about northwestern Ontario, the immediate assumption is that it is a completely remote part of Ontario where winter is both long and unbearably cold.  The truth is that we, in Kenora, have four very distinct seasons.  I never actually enjoyed the seasons as much as I do living in a place that allows me to experience the beauty of the landscape and proximity to the water, but also the seasonal activities that can quite literally be found outside my door.
You don't have to be an athlete to take advantage of organized and unorganized activities (both indoor and outdoor) in your community, as there are always options for all fitness levels that can be enjoyed solo or with a family in tow.
Get on the Trail
The Ontario Trail system offers a scenic route for anyone who wants to take in the outdoors and caters to all fitness levels and abilities whether you prefer to walk, run, hike or bike.
The Ontario Trail system is my go-to if I'm visiting a different part of Ontario and am itching to get some outdoor activity in.
Join the Community
Recreation centres and community leisure guides are another great resource if you are interested in learning something new, or want to participate in recreation or wellness activities.
Bonus: seasonal programs are typically highlighted!
Organized activities often bring people together, but that doesn't mean that you can't create your own!  Start a running group, or join some friends at a local tennis court once a week.  More and more, communities are becoming proactive in offering a variety of recreation and wellness activities.
Staying Active as a Family
Adding two little people to the mix has meant that staying active on a regular basis usually involves both Madyn and Benj.  I see it as both a more challenging workout (when I'm running while pushing them both in the Croozer) and a way to cultivate healthy habits while spending quality time together.
Our seasonal family activities usually include walking, running, biking, hiking, swimming, sliding and skating in the winter, or pulling the kids on the sled.  When I am able to enjoy the outdoors by myself or with friends, I usually run, stand-up paddle board, hike or cross-country ski.  Otherwise, I'm dedicated to my free weights 5-6 times a week and a yoga practice (learn more about Ashley's workouts and fitness tips as #OurInspiration).
This winter we plan to take up snowshoeing, as it's an activity that we can enjoy as a family.  Benjamin is old enough to have his own set, and we can wear Miss Madyn.
There is so much to do to stay active outdoors in Kenora: biking, hiking, walking, running, swimming, camping, kayaking, stand up paddle-boarding, waterskiing, snowshoeing, downhill and cross-country skiing, etc. Organized activities for new parents or families are increasing in number.  Take for example parented yoga and dance classes, or stroller-fit for new moms.
Tips for Staying Active
Make getting outside a regular part of your day.
Try something new.
Get the family involved.
Grab an accountability partner.
Have one activity you enjoy for each season.
Check out local classes.
Start your own group.
The idea of getting active outside should come naturally, but outdoor goals – just like with gym training – are a great way to stay accountable to trying new things!
To start, maybe you and your family set a goal to walk to the park twice a week (this is also a great way to enjoy quality time with your puppy!)
Bring a soccer ball or football with you and play a game, or sign up for tennis lessons and stay committed to them once a week for one month.
For the winter months, try buying you and your family members a pair of skates (no need for anything fancy – second hand skates are a great option!) Having your own skates available will encourage you to use them instead of relying on rentals. Grab the whole family and enjoy a skate at a public rink for an hour each week (we are Canadian, after all. Knowing how to skate is mandatory).
No matter what outdoor activities you choose, setting goals, having a buddy, and investing in equipment are all little tricks to keep you accountable. Eventually, the idea of goals will disappear and being outdoors will feel second nature and become part of your routine.
We would love to hear your favourite outdoor routines! What do you enjoy, and what do your kids like? Share them below!
Until next time,
Ashley
Mom, Half-Marathon Runner, CleanWorkout Contributing Writer