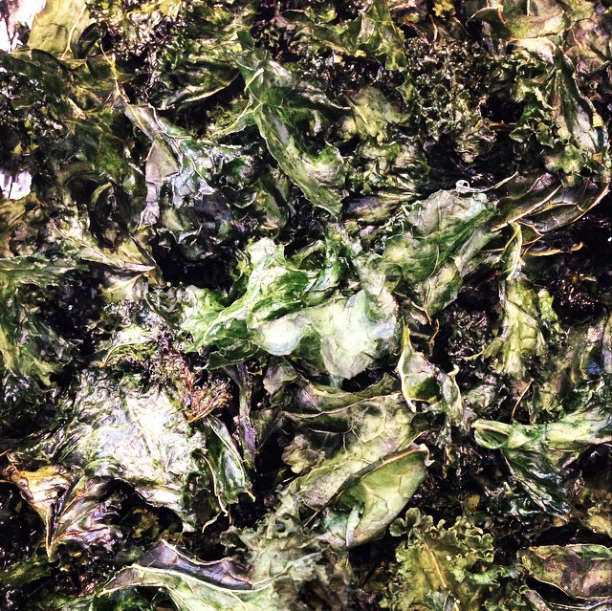 Kale is a delicious leafy green full of antioxidants, fibre, Vitamins C, D and K, and high in iron and calcium. Among its many health benefits, it is also great for detoxifying your body.
It is a versatile vegetable that can be served raw in salads, sautéed with garlic, wilted down with pasta and a heaping pile of tomato sauce, or even crisped up as chips.
Here is my fool proof recipe for the perfect, crispy, healthy, and delicious kale chips. Go ahead and indulge in a bowl (or two!).
---
What you will need:
Curly kale, washed and dried thoroughly
Olive Oil
Sea Salt
Large Mixing Bowl
Baking Sheets Lined with Parchment Paper
---
Pre-heat oven to 300 degrees C.
Tear the curly kale off the stems and into roughly 2 inch pieces. Keep in mind the pieces will shrink as they bake
Lightly drizzle torn kale with olive oil and mix. Only add a small amount of oil as too much will prevent the chips from crisping.
Spread kale onto the lined baking sheet in a single layer. Do not overcrowd the tray as your chips will not crisp properly.
Season to taste with sea salt. Do not over season – the salt will intensify as the chips bake. (I find organic kale is flavourful enough without any salt and simply seasoned with olive oil.)
Bake on the centre rack, or on convection bake, for 20 to 22 minutes, until the leaves are crispy.
Let sit for a few minutes before transferring to your serving dish.
Enjoy!
These crispy and delicious kale chips are great served on their own, or crumbled on top of pasta. They will keep in an air-tight container or cookie tin for up to one week (if they last that long).