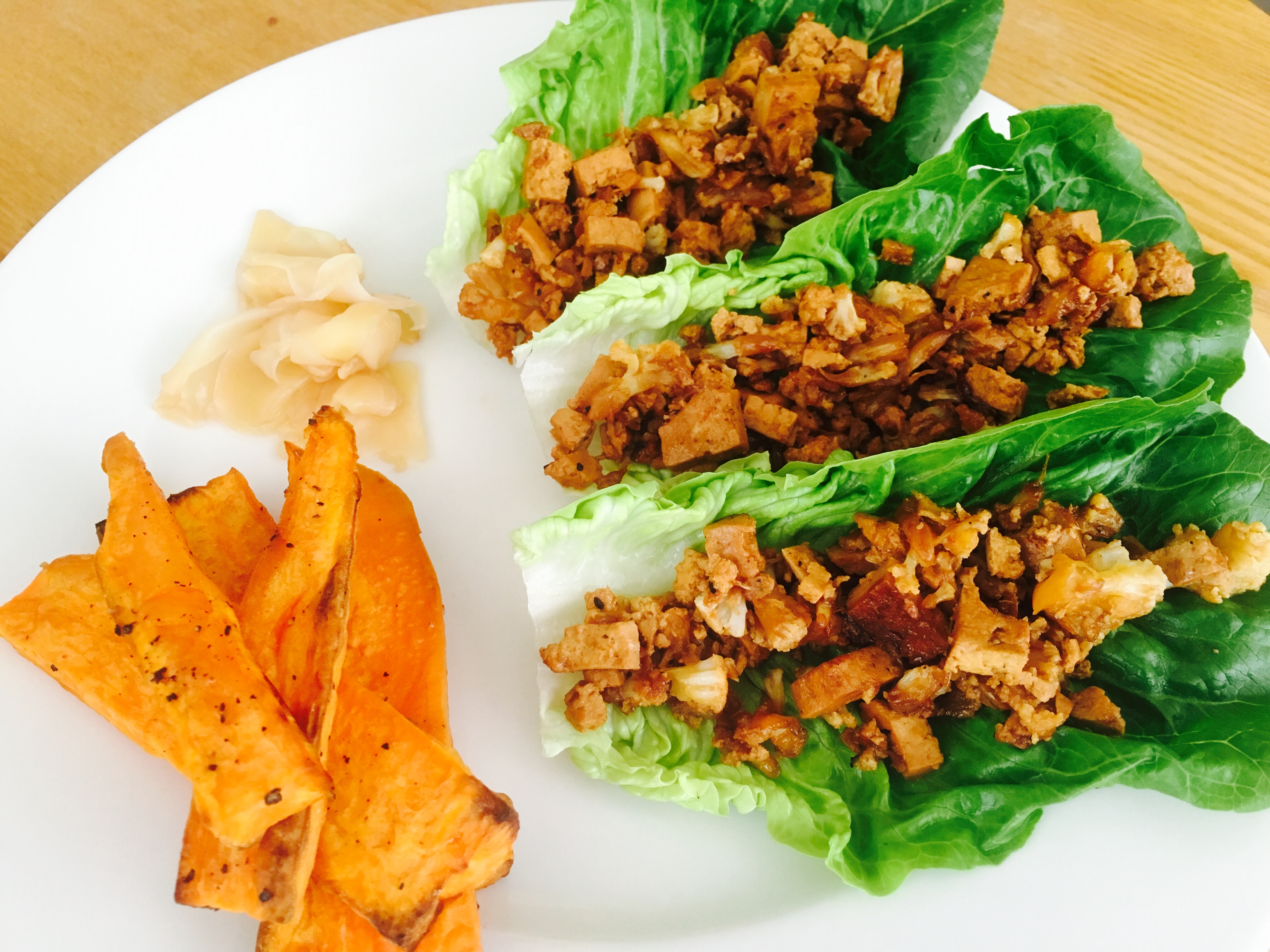 Protein is an essential part of your daily diet. Eating enough keeps you feeling full, helps you build muscle, and gives your body energy to function (Learn more about the marvels of protein here!).
It is important to diversify your protein sources by enjoying things like legumes, cheeses, and plant products like tofu or satan. Eating animal protein for every meal is not always the healthiest way of getting your fill, plus it can be very expensive! The next time you are at the grocery store, try experimenting with a new type of vegan or vegetarian protein. With a proper balanced diet, you should feel full and energized!
CleanRecipe : Sweet and Spicy Tofu Boats
These simple vegan Sweet and Spicy Ginger Boats are a great way to transform tofu into a hearty meal that will shock and convert meat lovers!
Ingredients:
1 Block Medium or Firm Tofu, Diced into 0.5 cm Cubes
1 1/2 cups Steamed Cauliflower Florets, Broken into Small Pieces
1 – 2 tbsp Finely Chopped Ginger
1 tbsp Finely Chopped Garlic
2 – 3 tbsp Light Soy Sauce
1 – 2 tbsp Dark Soy Sauce
2 tbsp Brown Sugar
1/2 – 1 Lemon Juice
Chilli Flakes (optional)
2 tbsp Olive Oil
Whole Lettuce Leaves for Serving (try romaine / gem / butter lettuce)
Assorted Korean Style Pickles or Pickled Ginger for Serving
How to Make Them:
In a heavy frying pan, sauté chopped Ginger, Garlic and Chilli Flakes in Olive Oil for a few minutes until they perfume your kitchen.
Add diced Organic Tofu and warm through for a minute before adding Steamed Cauliflower.
Add Light and Dark Soy (I like mixing the two to get a different flavour, but use one type of soy sauce if that is all you have or prefer the taste), Brown Sugar (sugar caramelizes differently than honey or other sweeteners), and Lemon Juice.
Using a potato masher, lightly mash together the tofu and cauliflower to help mix up the sauce ingredients, and create a finer texture similar to ground meat. Make sure everything is mixed and check for seasoning – add more soy, chillies, sugar or lemon depending on taste.
When you are happy with the taste, let the mixture heat on low for a few minutes so the tofu and cauliflower "mince" absorbs the liquid and starts to caramelise underneath.
Serve with in Lettuce Boats with your favourite pickles or pickled ginger, and a side of our simple Sweet Potato Fries (because they go with everything).
Enjoy!