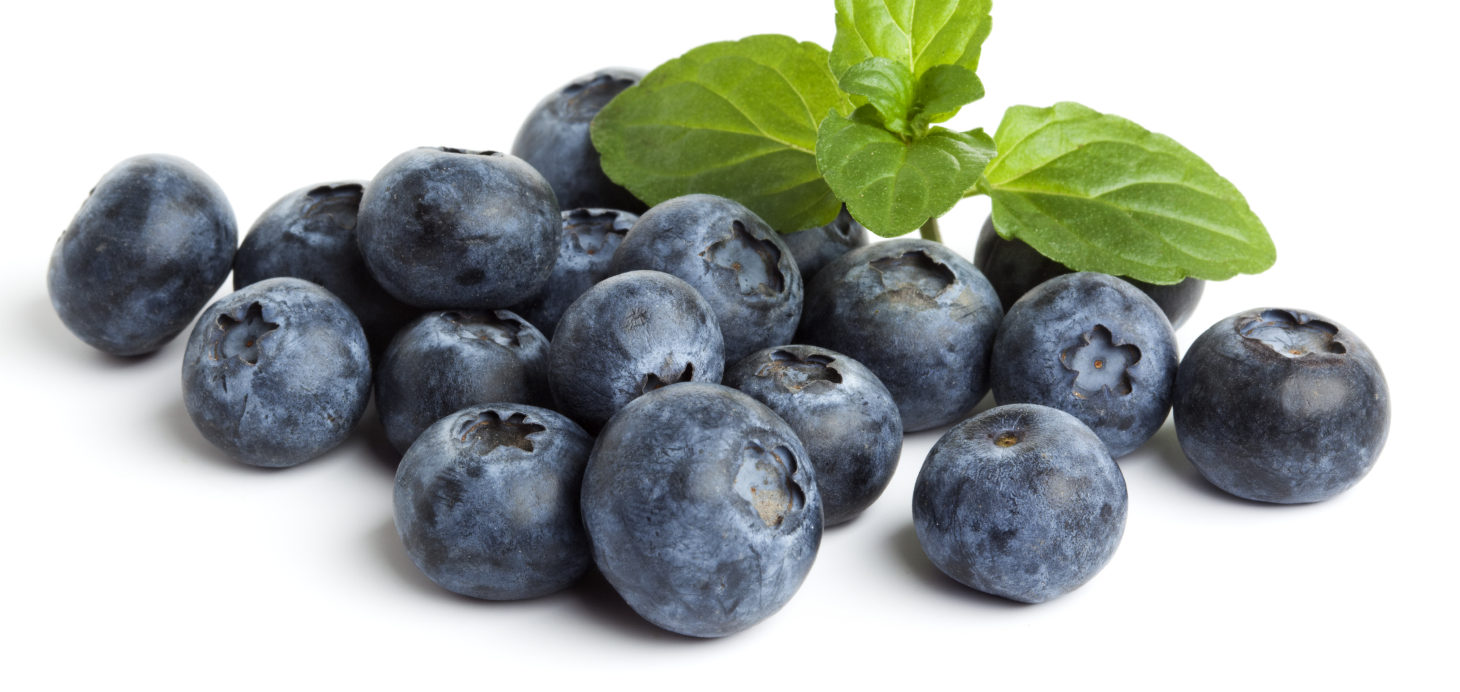 Shopping fresh, seasonal fruits and vegetables makes all the difference in the world. When foods are at their peak of freshness, not only are you getting the best value for your money and tastiest flavour, your body benefits from serious nutrients!
Right now we are still enjoying Blueberry season in Ontario – they can be found everywhere and you can feel good about eating them like tiny, healthy candies! (Click here for more information about seasonal vegetables and fruits!)
Those little blue tasty morsels belong to the vaccinium family: Vaccinium corymbosum are the high bush blueberries also known as cultivated blueberries, and vaccinium angustifolium are low bush or wild blueberries.
With just 80 calories per 1 cup serving, this nutrient dense fruit ranks high in the antioxidant world and is a convenient snack that you should be reaching for as much as possible.  In addition to antioxidants, you will enjoy the benefits of potassium, zinc, copper, vitamins A, B complex, C, E, manganese and iron to name a few nutrients.
The 5 Most Commonly Cited Health Benefits:
Boosts immune system to fight off colds and infection
Helps prevent signs of aging such as wrinkles and age spots
Improves digestion
Fibre helps to regulate the bowels
Neutralize free radicals and reduces the cell damage they can cause
Keeps your retinas healthy
Interesting Facts:
Blueberries are 85% water
Main antioxidant compounds in blueberries are called flavonoids
Anthocyanin is the pigment responsible for the deep blue colour
North America is the largest producer of blueberries
Blueberry season – early July to late August
Selecting Blueberries
If you aren't hand-picking your blueberries, look for a deep blue colour and berries covered with a chalky white bloom.   The presence of the white bloom and berries that move when the container is shaken are a sign of freshness.  As they lose their freshness they get soft and stick together.
Storing Blueberries
For immediate use: Always remove any crushed blueberries or those not fit for eating from the container before popping in the fridge to prevent the remainder of berries from spoiling too quickly.  Rinse berries right before eating.
For later enjoyment: To prepare the berries for the freezer, scatter them on a cookie sheet and allow to freeze until hard.  Double bag and toss back in the freezer.
There are endless ways to incorporate blueberries into your diet: straight up, in a smoothie, salad, muffins, breads, as a juice.   While blueberries have been in season this summer, I've been a fan of the smoothie bowl (see recipe below).  It's great for breakfast or as a midday snack, and definitely curbs my cravings for ice cream!
CleanRecipe: Blueberry Smoothie Bowl
¾ cup Plain Greek Yogurt
¼ cup Frozen Blueberries
3 tbsp Almond Milk
¼ cup Raspberries
¼ cup Strawberries
¼ cup Blueberries
2 tbsp Toasted Almonds
1 tsp Ground Flax
1 tsp Hemp Hearts
1 tsp Organic Honey / Peanut Butter
Directions:
Blend Greek Yogurt, Blueberries and Almond Milk until smooth and pour into a shallow bowl.  Top with raspberries, strawberries, blueberries, toasted almonds, ground flax, hemp hearts and drizzle with organic honey or peanut butter.
---
Written By CleanWorkout.com Contributor, Ashley Massey
---
Sources
Blueberries – SuperFood – Overview
Super Foods Rx
Posted 2015-09-09
www.sueprfoodsrx.com/healthyliving/blueberries-benefits/#
10 Proven Health Benefits of Blueberries
Joe Leech
Authority Nutrition
http://authoritynutrition.com/10-proven-benefits-of-blueberries/
10 Nutritional Facts About Blueberries and Recipes you Must Try
Karen Reed
June 12, 2016
www.positivehealthwellness.com/diet-nutrition/10-nutritional-facts-blueberries-recipes-must-try
Ontario High Bush Berries
http://ontarioberries.com/site/berry-info/blueberries.html